No Drama Guarantee
We want everyone who purchases OffHand Gear to be happy! Life is too short to deal with hassles and drama! That's why if you have any issues with an OffHand Gear product we will do whatever it takes to make it right!


What Exactly does that mean? It means if your tee doesn't fit, has a flaw that missed us or isn't what you thought it would be (rare but could happen), you just send it back to us and we will take care of it for you!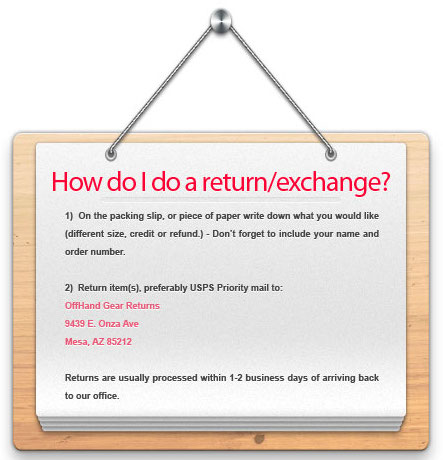 How do I return or exchange an item? Unworn, unwashed clothing can be returned for a refund (minus shipping) or exchanged within' 30 days of receipt. If you don't have your packing slip (we know, in your excitement you probably threw it out), then please include a note inside the return package with your name, address, and the action you would like us to take (refund, store credit or exchange for another item/size).

What if the size or exchange item I want is out of stock? It happens, we try not to, but sometimes items are limited or run out quickly. Should the item you would like be out of stock, we will email you to find out how you would like us to proceed. Of course, you can always put that in your note for us too and we will get right on making it happen!

How do I ship this back? Return shipping is up to you, we suggest using USPS Priority Mail or other trackable option. Once your return is in the hands of USPS or UPS, tracking can be a life saver. Return shipping cost will be refunded to you on defective items.

How will I know you got my return? Once your return arrives back here at OffHand Gear HQ we will email you so you know we are on top of getting the problem resolved. Please keep an eye out for that email just in case we have any questions so we can process your refund, credit or exchange as quickly as possible (We don't like things sitting around unfinished).

Any exceptions to the return policy? Unfortunately, yes - Hand Guards and special order items can not be returned. However, if you do have a problem with one of these items please email us the problem and we will do everything we can to make it right! We want you to LOVE your OffHand Gear!

OffHand Gear - Returns / 9439 E. Onza Ave / Mesa, AZ 85212
---
Returns on Wholesale Items are not accepted. All items are inspected before shipping. If you are a wholesale account and have a problem with your order please contact Sandi@OffHandGear.com